Our sailors for a day say:
It's worth to watching the sunrise from the sea and experience firsthand how they take the nets, but the best was the food which set us the captain: grilled fresh prawns and fresh fish rice ... Spectacular !!
Although at first I was a little dizzy, the experience was very positive. My son went mad with joy at seeing dolphins jumping alongside the boat and my husband enjoyed a lot to learn at the hands of a true professional artisanal fisheries.
Enjoy some freshly caught grilled squid in the same boat watching the sunset in front of a pristine beach and listening to the exciting stories of a real sea dog is priceless ... repeat for sure !!
Durante mi vuelta al mundo a vela siempre soñé en subir a un barco de pesca. Ahora puedo decir que ha sido una experiencia increíble
Nosotros como adultos lo hemos pasado muy bien, pero no tiene comparación con los niños que se lo han pasado increíble
El meterme en la piel de una persona tan lejana a mi modo de vida como un pescador ha sido fascinante. He vivido una experiencia extraordinaria
Schiff ahoi, Petri heil, Schubidu und Hochsassa! Es war einfach toll und molta interessante! vielen Dank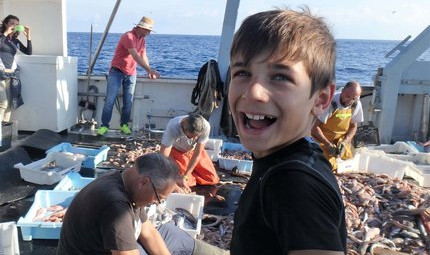 Live it with your children
Arouse their emotions
Disclose them an amazing experience
Enjoy the best adventure in family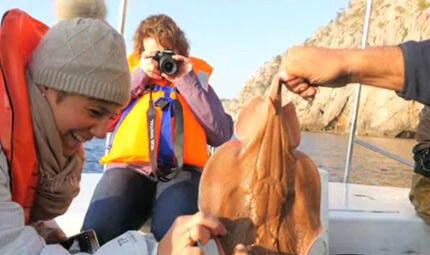 Awaken your emotions
Learn all the secret of fishing
We discover you the world of dolphins
Discover the most exclusive coves